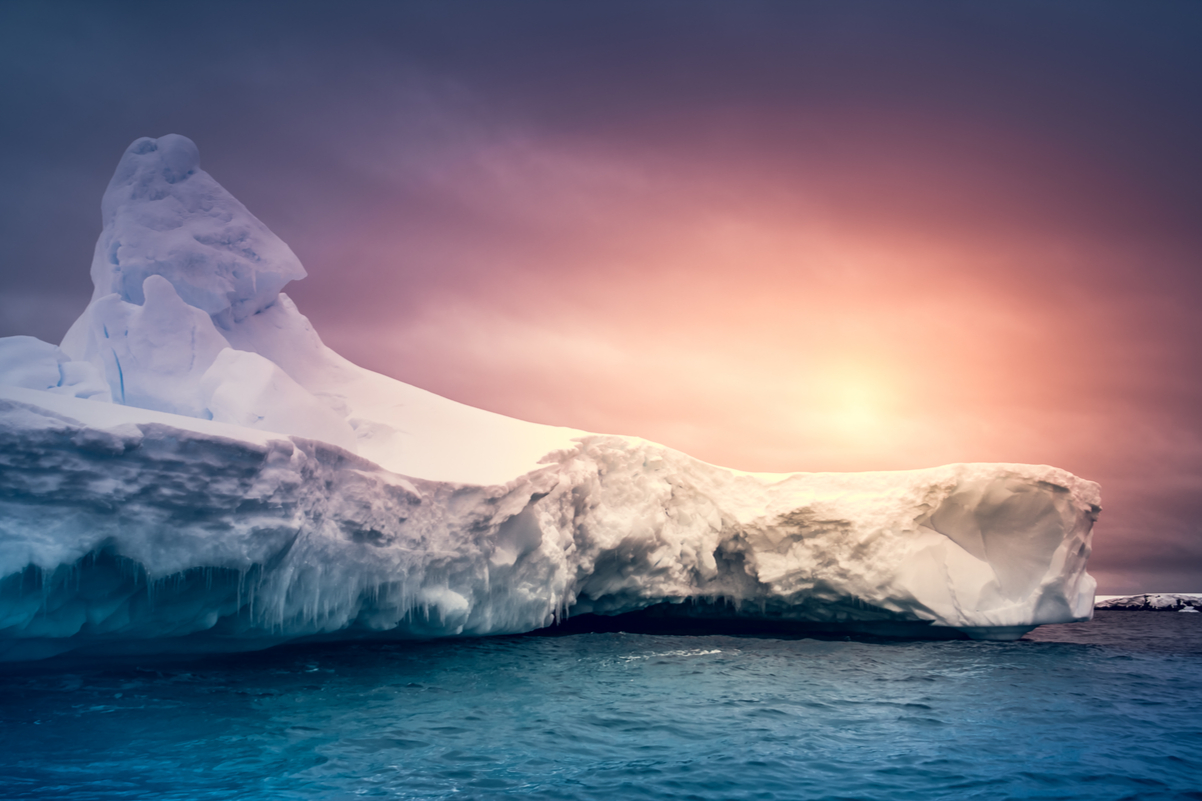 As the popularity of cryptocurrencies grew, so did the amount of energy required to produce them. Especially in the case of the two biggest ones: Bitcoin and Ethereum. This has sparked criticism from environmentalists, who have begun to express concerns about digital assets' impact on the environment.
Nonetheless, Bitcoin and Ethereum are fairly old blockchains (by the standards of the crypto world) that operate on an energy-intensive proof-of-work consensus method. As part of this process, so-called miners "mine" bitcoins and thus consume energy. All of this leads to massive emissions of carbon dioxide.
And while many maximalists argue that bitcoin can push the world toward renewable energy (and they're partly right), developers have already come up with a better solution. It is the proof-of-stake (PoS) consensus algorithm. This technology is up to 99% more energy-efficient than PoW and guarantees high blockchain security. The difference between PoW and PoS is that instead of using supercomputers to validate transactions, users "stake" their coins and thus secure the chain.
With Google Earth Day 2022's doodle showing images of climate destruction over the past several decades, it's clear that we as a human race need to reduce our carbon footprint in any way possible. Supporting cryptocurrencies with eco-friendly networks is the first step to ensuring future generations can enjoy the planet we all live on.
How Much Energy Does Bitcoin Consume Versus Proof-Of-Stake Coins?
Galaxy Digital published last year a report titled "On Bitcoin's Energy Consumption: A Quantitative Approach to a Subjective Question. It compared the Bitcoin network's energy consumption to the banking system and the gold industry. The statistics turned out to be surprising.
It was estimated that the Bitcoin network (including miner energy consumption, pool energy consumption, and node energy consumption) consumes about 114 TWh of electricity annually. Is that a lot? Well, not really – the traditional banking system draws about 263.72 TWh, and the gold industry uses about 240.61 TWh. So we are talking about more than twice the electricity consumption.
However, it is worth noting that the assessment of energy consumption in the financial system and gold industry is not easy to calculate. This means that the actual demand here might be even higher.
Nevertheless, it is worth considering what this looks like for proof-of-stake cryptocurrencies. A report by Trades of Crypto comes to our aid. This company has detailed the data on eco-friendly coins and finally selected those with the largest market capitalization, using the least energy, and emitting the least CO2. So, which cryptocurrencies are the most environmentally friendly in these categories?
Green Coins in Terms of Value (At the End of 2021)
According to Trades of Crypto, the greenest cryptocurrencies at the top of the rankings at the end of 2021 were: Cardano, Polkadot, Ripple, Stellar, and Filecoin.
Cardano – Cardano (ADA) is a decentralized, open-source blockchain platform featuring a proof-of-stake consensus mechanism. Its native cryptocurrency is ADA. Cardano aims to create a comprehensive platform for smart contracts, tokens distributed during ICOs, decentralized applications (dApps), and exchanging value via digital currency. The project developers aspire to provide the most advanced and comprehensive features among all available decentralized platforms based on blockchain technology.
Polkadot – Polkadot (DOT) is an innovative and relatively young cryptocurrency that enables multiple blockchains to operate simultaneously. This means that you can transfer assets between different networks using this project. Such functionality is made possible by several features of the project. First of all, it is highly scalable – the technology uses the so-called sharding, which allows for efficient processing of transactions at one time. Polkadot is designed with interoperability in mind, which ensures blockchain compatibility and provides information to be exchanged between different applications.
Ripple – Ripple (XRP) is an extended real-time settlement platform. Its native digital currency is XRP. Ripple is intended to be a cheaper alternative to a real-time settlement system between banking institutions and provide faster and more convenient international transfers using different currencies for businesses. This project stands out from others because it allows transactions to be made via both XRP and fiat currencies. It is worth noting here that XRPs are no longer mined and are all in circulation. Moreover, the company behind the coin promises to become completely CO2 neutral by 2030.
Stellar – Stellar (XLM) is an extensible, open-source platform based on a public and distributed blockchain network. Its cryptocurrency is called Stellar Lumens (or simply: Lumen). Stellar's mission is to enable the building of financial products and services that will connect people worldwide, including those who do not currently have access to banking services. Stellar provides a robust payment network that enables any transaction with instant confirmation and near-zero transaction fees. How is this made possible? Stellar uses a small number of trusted nodes to approve transactions.
Filecoin – Filecoin (FIL) is a decentralized protocol that allows users to share or rent hard drive space to store files. Rather than trusting a single company to offer cloud storage of a user's files, the protocol stores encrypted files in a network of computers scattered across the Earth and, in the future, even on other planets. Using Filecoin technology in conjunction with the IPFS protocol and .crypto domains, you can create fully decentralized and uncensorable websites.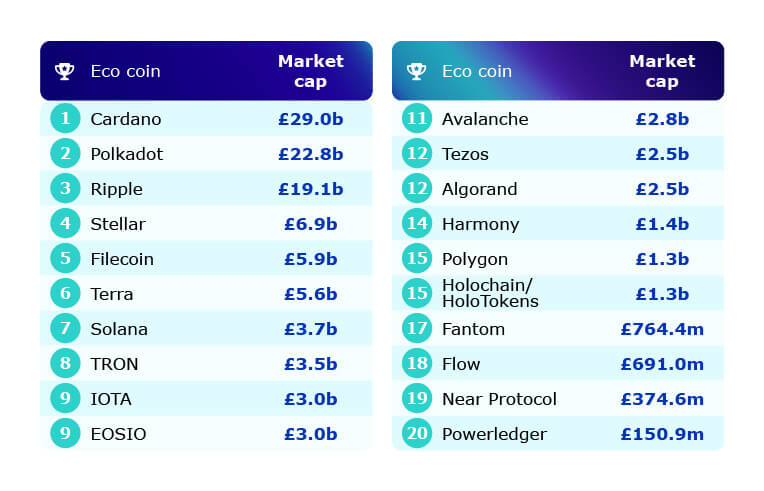 Environment-Friendly Coins in Terms of CO2 Emissions
#1 Fantom (FTM) – Fantom is a smart contracts platform built with a Directed Acycling Graph (DAG). It provides DeFi services to developers using its unique eco-friendly consensus mechanism.
#2 Terra (LUNA) – Terra is one of the most underrated ecosystems featuring a dual-token economy consisting of a stablecoin and a vast ecosystem of DeFi, NFT, and Metaverse dApps.
#2 Stellar (XLM) – Stellar is a public network enabling users to move and store money.
#4 Polkadot (DOT) – Polkadot is a multichain open-source platform connecting the DeFi economy, facilitating cross-chain transfers, and enabling multiple blockchains to communicate with each other.
#5 Tezos (XTZ) – An open smart-contracts platform similar to Ethereum.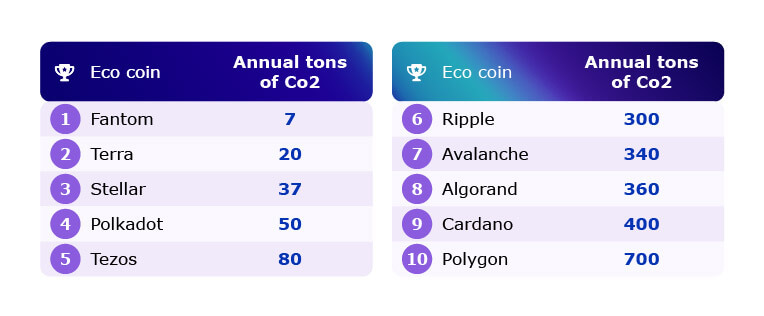 Eco-Friendly Coins in Terms of Energy Consumption
Trades of Crypto divided the projects into two categories: those using the least energy per year and during transactions.
Projects use the least amount of energy throughout the year:
Cardano – 48,851 KWh
Algorand – 70,237 KWh
Avalanche – 113,249 KWh
Flow – 180,000 KWh
Tezos – 489,311 KWh
Polkadot – 512,671 KWh
Stellar – 598,755 KWh
Terra – 790,000 KWh
Fantom – 1,137,776 KWh
Solana – 3,186.00 KWh
For consumption per transaction, the ranking looks as follows:
IOTA – 0,0016 Wh
MetaHash – 0,0027 Wh
Tezos – 0,028 Wh
Algorand – 0,03 Wh
Avalanche – 0,166 Wh
Cardano – 2,7 Wh
Fantom – 4,76 Wh
Flow – 7,9 Wh
EOSIO – 10,6 Wh
Polkadot 17,42 Wh
Closing Thoughts
There are plenty of eco-friendly cryptocurrencies on the market. Supporting any of the coins mentioned above is a great way to promote sustainable projects for those concerned about the impact of crypto's energy consumption on the Earth.
Moreover, proof-of-stake cryptocurrencies are becoming increasingly popular, which means the crypto market is moving towards sustainable and eco-friendly practices.
---
Also Read:
Top 5 Metaverse Coins With Long-Term Potential to Watch in April 2022
Follow us on Twitter @thevrsoldier to stay updated with the latest Metaverse news!
Image Source: Volodymyr Goinyk/Shutterstock.com