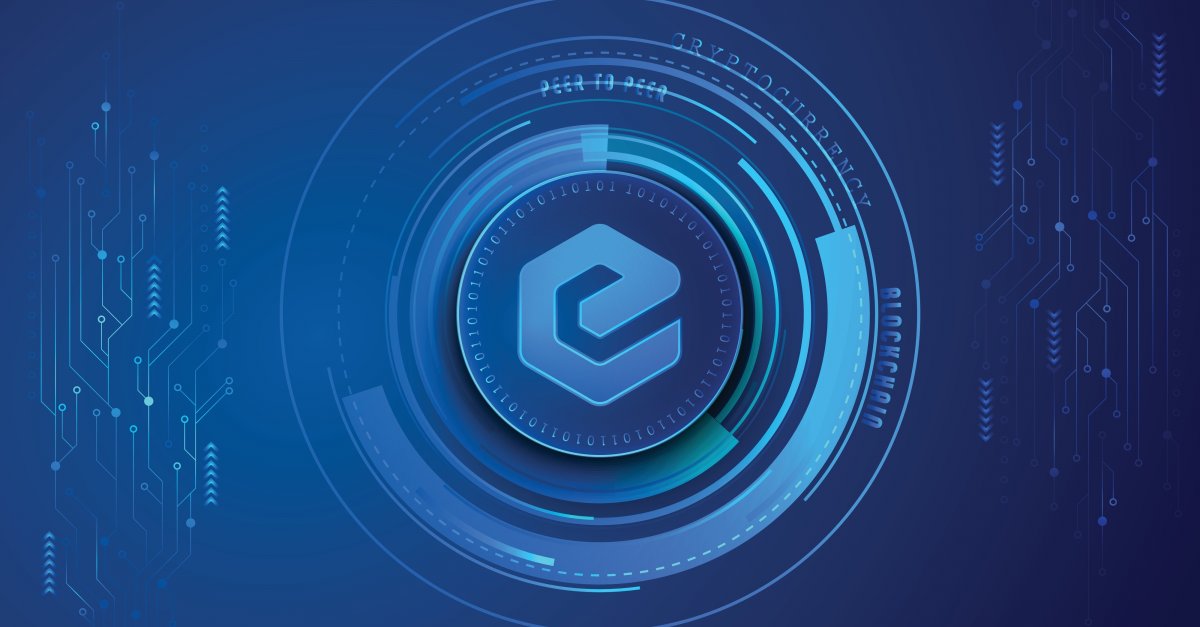 eCash (XEC), previously known as Bitcoin Cash ABC (BCHA), reached a 90-day high of $0.0001611 on 2 April, according to CoinMarketCap. However, it declined to $0.00008551 at the time of writing (18 April), a fall of more than 46% from the high. Moreover, it was trading more than 85% below its all-time high price of $0.0005926, achieved on 10 November 2021.
There have been several efforts by bulls to reclaim the momentum of the global cryptocurrency market, but to no avail. Several major cryptocurrencies, including bitcoin (BTC) and ether (ETH), have shed value during the past few days. BTC lost 8.04% over the past seven days, and is trading at $38,974, while ETH declined by 8.98%, and is trading at $2,895.
Could this be the beginning of a crypto winter or another retracement period? Will the eCash token price gain momentum in the coming months? Let's consider the project's fundamentals and latest XEC coin news to get a clearer outlook on what might be a plausible eCash price prediction.

What is eCash coin?
eCash is a digital currency established during the July 2021 hard fork of the Bitcoin Cash (BCH) network. Before the hard fork, eCash was known as Bitcoin Cash ABC and traded under the ticker BCHA.
eCash's native token, XEC, enables users to transfer money directly to other people online and pay for products and services. Moreover, it is used for staking within the network's governance system.
According to the eCash website, "You can use eCash to send and receive payments without the need for a bank account. It's available in every country, and you can use it to send and receive cross-border payments anywhere in the world."
Avalanche (
AVAX
), a
blockchain
system that provides rapid transactions, increased security, and fork-free updates, supports eCash. According to eCash, Avalanche provides the eCash protocol with technically competent and decentralised governance.
eCash's protocol revenue is regularly returned to the eCash ecosystem to finance critical infrastructure and ecosystem development efforts, with funding approvals overseen by the Global Network Council (GNC).
eCash prioritises anonymity by using the CashFusion protocol. CashFusion offers comparable anonymity to the leading privacy coins, while maintaining an auditable supply cap.
According to
Amaury Sechet
, eCash lead developer: "eCash opens the door to possibilities previously unattainable by combining the core tech behind Bitcoin's success – the same fixed supply, halving schedule, and genesis block – with the latest proof-of-stake consensus and protocol governance".
XEC/USD price analysis
Based on the earliest available price data chart from 2021, the XEC token price declined from $0.00002753 on 8 July to its all-time low of $0.0000173 on 20 July, a decline of more than 37%.
After hitting the low, the price action turned bullish for the XEC token, and it reached $0.00008041 on 6 August and further spiked to $0.0003615 on 4 September, a rise of more than 1,213% from the July low.
However, after this rally the bears pushed the price back down to $0.0001931 on 13 September. The price further declined to $0.0001723 on 28 October. 
During November 2021, the broader cryptocurrency market was bullish, and XEC token price spiked from $0.0002018 on 10 November to its all-time high of $0.0005926 on the same day, a massive intra-day spike of nearly 194%. However, the price declined and closed at $0.000187.
The bearish momentum continued further, and the eCash token price declined to $0.0001097 on 4 December. It closed the year at $0.0001083.
At the beginning of 2022, the XEC token price action was bearish, and it declined to a 90-day low of $0.00006246 on 24 February in line with the broader cryptocurrency market. However, it quickly regained momentum and reached a 90-day high of $0.0001611 on 2 April, an increase of nearly 158%.
At the time of writing (18 April), the XEC token was trading at $0.00008551 and had a market capitalisation of $1.62bn. Will the token gain strength in the coming months?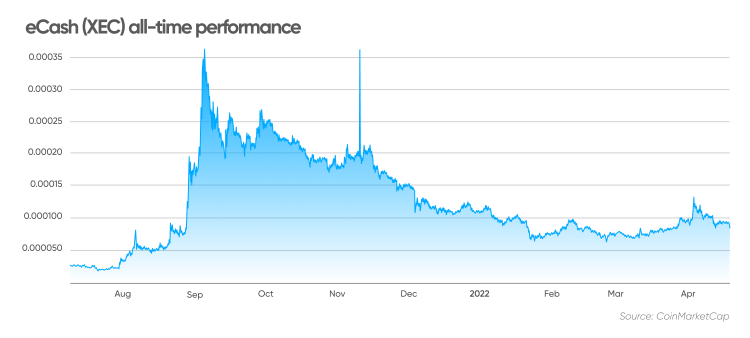 XEC coin news and price drivers
eCash has passed a number of important milestones and seen several developments lately, which may drive the eCash token price outlook:
Approval of Chronik Indexer Project by GNC
In April 2022, eCash's GNC-funded Chronik Indexer was launched. The project is divided into many phases, the first of which was to open-source the current Chronik codebase. Subsequent phases will focus on integrating the Chronik Indexer straight into the Bitcoin ABC node software, and providing eCash with indexing infrastructure.
The indexer is a fundamental infrastructure component upon which other apps such as wallets and explorers are built. 
According to the blog post, "Current eCash indexers are inefficient, buggy or have mediocre code quality. By addressing these issues, Chronik allows for a faster, cheaper, and more reliable eCash development and indexing experience. 
"In addition, Chronik is designed to be forward-looking and upgradable, making it well suited to the long-term goals of building an indexer directly into the eCash node, providing first-class Avalanche support, and making the indexing of new protocols as easy as possible."
Chronik aims to simplify the entire eCash development stack and inspire a cascade of developers to create additional protocols on top of eCash.
Partnership with RocketX and Crypto.com
RocketX established a partnership with eCash in January 2022. The alliance intends to increase worldwide awareness of the eCash cryptocurrency, while also making it more accessible to new users.
RocketX places great value on token transfers and cross-chain swaps as a global liquidity aggregator. The platform provides instant access to other ventures through centralised (CEXs) and decentralised exchanges (DEXs).
Earlier in December 2021, Crypto.com introduced the XEC pricing page, allowing users to view eCash's RSS news feed. As a result of this launch, members of the global Crypto.com community can now access the latest eCash news about the coin's technological advancements. 
Rebranding of Bitcoin Cash ABC to eCash
In July 2021, Bitcoin Cash ABC was relaunched as eCash, and a proof-of-stake (PoS) consensus layer was implemented.
The project's relaunch was merged with the PoS consensus layer Avalanche, enabling staking and significantly boosting transaction speed. 
"eCash is the only low-inflation Bitcoin-based crypto to offer staking rewards without the high transaction fees typical in Ethereum staking," according to the press-release. 
"To date, users can take eCash with USDT at Coinex.com and earn 400% APY. In the near future, eCash will also make it possible to stake eCash for native on-chain rewards and help secure the network with Avalanche."
Additionally, eCash lowered the number of decimal places from eight to two. Sechet said:
"No other money has 8 decimal places. Why should crypto? Cryptocurrencies with a lower unit price also enjoy higher bull market appreciation. Because the eCash team is incentivised by both tech and price improvement, this improvement was a no-brainer".
XEC price prediction: Targets for 2022, 2025 and 2030
According to CoinCodex, market sentiment for XEC was bearish as of 18 April, with 22 technical indicators giving bearish signals and only five giving bullish signals.
All the daily and weekly Simple Moving Averages (SMA) and Exponential Moving Averages (EMA) gave 'sell' signals. The Average Directional Index (ADX) and the Volume-Weighted Moving Average (VWMA) were also bearish.
Meanwhile, the Hull Moving Average (HMA), the Relative Strength Index (RSI), the Stoch RSI and Williams Percentage Range gave 'buy' signals. The Moving Average Convergence Divergence (MACD) and Ultimate Oscillator kept neutral.
According to the short-term XEC coin price prediction on 18 April by CoinCodex, it could plunge to $0.000084 by 23 April 2022.
Meanwhile, several algorithm-based forecasters gave mixed long-term eCash coin price predictions as of 18 April:
According to WalletInvestor's XEC forecast, the token was a 'bad' long-term investment. It estimated that the coin's average price could decline to $0.0000714 by the end of 2022 and to $0.0000362 by the end of 2023. Its XEC price prediction 2025 suggested it could end the year at $0.00000542. Its five-year XEC future price prediction indicated that XEC could reach $0.00000372 in April 2027. 

However, the eCash prediction from PricePrediction.net was rather bullish. Although its XEC coin price target suggested that the average price in 2022 could be $0.00011281, it expected the token to go up to $0.00033607 in 2025 and hit $0.002 in 2030.

In line with PricePrediction.net, the XEC prediction from DigitalCoinPrice also suggested XEC could rise further. According to its eCash crypto price prediction, the average price could be $0.000110 in 2022, $0.000164 in 2025 and $0.000390 in 2030.
When looking for XEC crypto price predictions, bear in mind that analysts' and algorithm-based projections can be wrong. Their expectations are based on fundamental and technical studies of the XEC token's past performance – but past performance is no guarantee of future results.
It is therefore essential to do your research, and always remember your decision to trade depends on your attitude to risk, your expertise in the market, the spread of your portfolio, and how comfortable you feel about losing money. You should never trade with more money that you can afford to lose.
FAQs