 This article was written exclusively for Investing.com
TerraUSD (UST) tanks
Tether (USDT) holds, for now
Confidence in cryptos declines
Stable is not a guarantee
With this asset class, be careful and expect the unexpected
The dictionary defines stable as not likely to give way or overturn—i.e. firmly fixed. In the world of cryptocurrencies, a stablecoin is pegged to a fiat currency or commodity that's meant to anchor its value and add reliability. When they deviate from the anchoring principle, the reason for their existence disappears.
The latest crypto debacle has occurred in the stablecoin sector. The digital token asset class's market cap peaked at over $3 trillion in November 2021, when and reached record highs. After a correction to lows in late January and price consolidation through early May 2022, the current stablecoin issue pushed the entire crypto class below the Jan. 24 lows; at the end of last week, the market cap had dropped below the $1.252 trillion level.
TerraUSD tanks
According to its website:
"The Terra protocol is the leading decentralized and open-source, public blockchain for algorithmic stablecoins. Using a combination of open market arbitrage incentives and decentralized Oracle voting, the Terra protocol creates stablecoins that consistently trade the price of any fiat currency."
(UST) fulfilled its pledge to "consistently trade the price of any fiat currency" against the from November 2020 through early May 2022, when the protocol fell apart. That occurred because algorithmic stablecoins, unlike traditional stablecoins aren't actually backed by real fiat assets but rather use complex technology to maintain their peg. As Bitcoin plunged, the technological dollar peg collapsed.
Source: CoinMarketCap
As the chart shows, UST is below the 7 cents level, one-tenth of its level at the beginning of May.
Mike Novogratz, the founder and CEO of crypto investing firm Galaxy Digital, and an investor in Terra and , another crypto that crashed from over $100 to under one penny per token, said a combination of central banks "unwinding a massive liquidity bubble" put too much pressure on Terra to deliver high-interest returns on users' holdings.
"The downward pressure on reserve assets coupled with UST withdrawals triggered a stress scenario akin to a 'run on the bank.'"
In early January 2022, Novogratz tweeted a picture that symbolized his commitment to LUNA.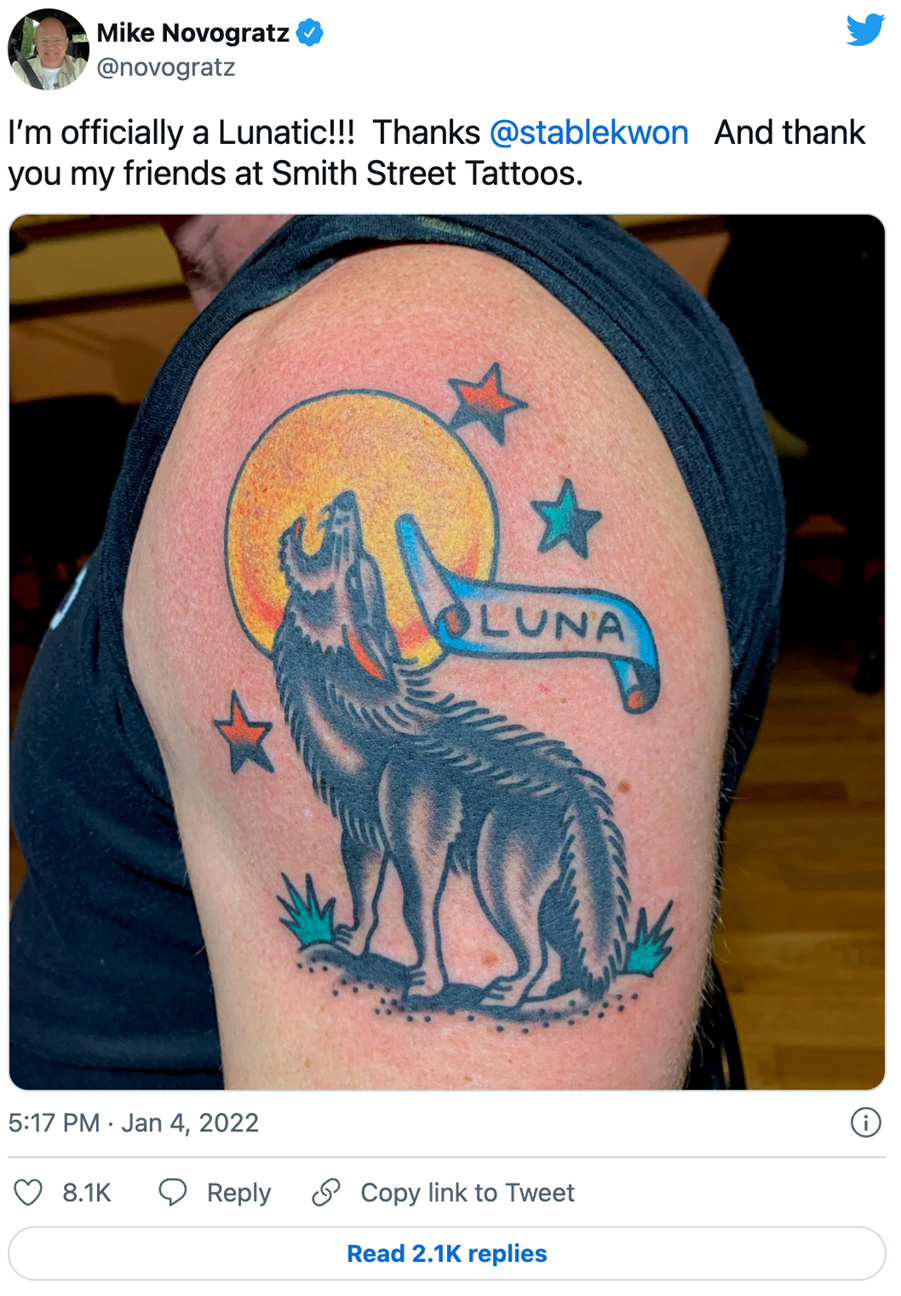 Source: Twitter
He recently commented, "My tattoo will be a constant reminder that venture investing requires humility."
Tether holds, for now
's (USDT) website states:
"Tether tokens are the most widely adopted stablecoins, having pioneered the concept in the digital token space."
As of this writing, the USDT token has lived up to its pledge and has maintained its value against the US dollar.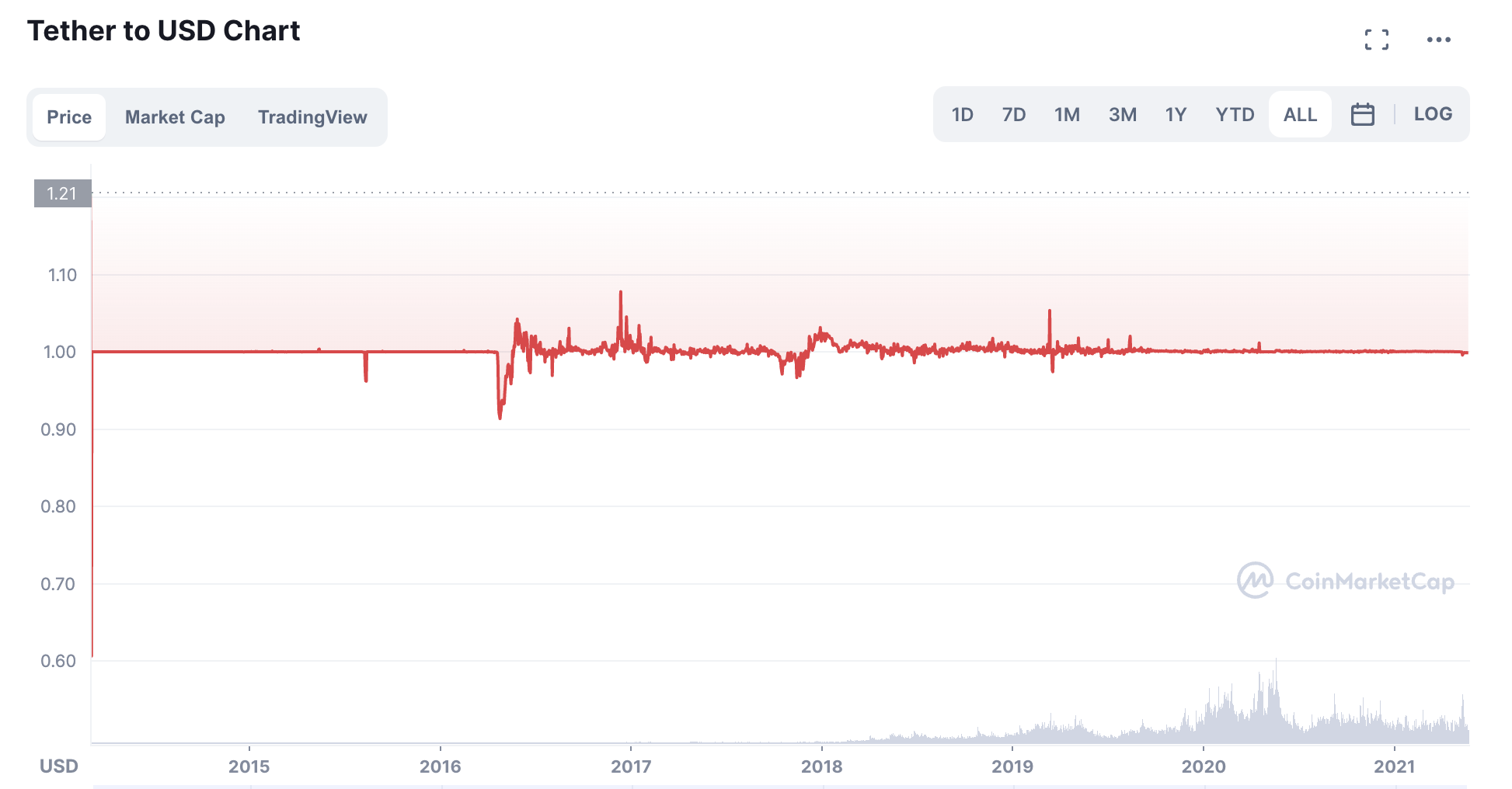 Source: CoinMarketCap
At the time of publication, USDT is the third-leading cryptocurrency behind Bitcoin and Ethereum. At 99.96 cents per token, USDT had an over $73 billion market cap and has held its value in the face of the UST meltdown.
Confidence in cryptos declines
The UST crash shook investor confidence in stablecoins along with the overall cryptocurrency asset class.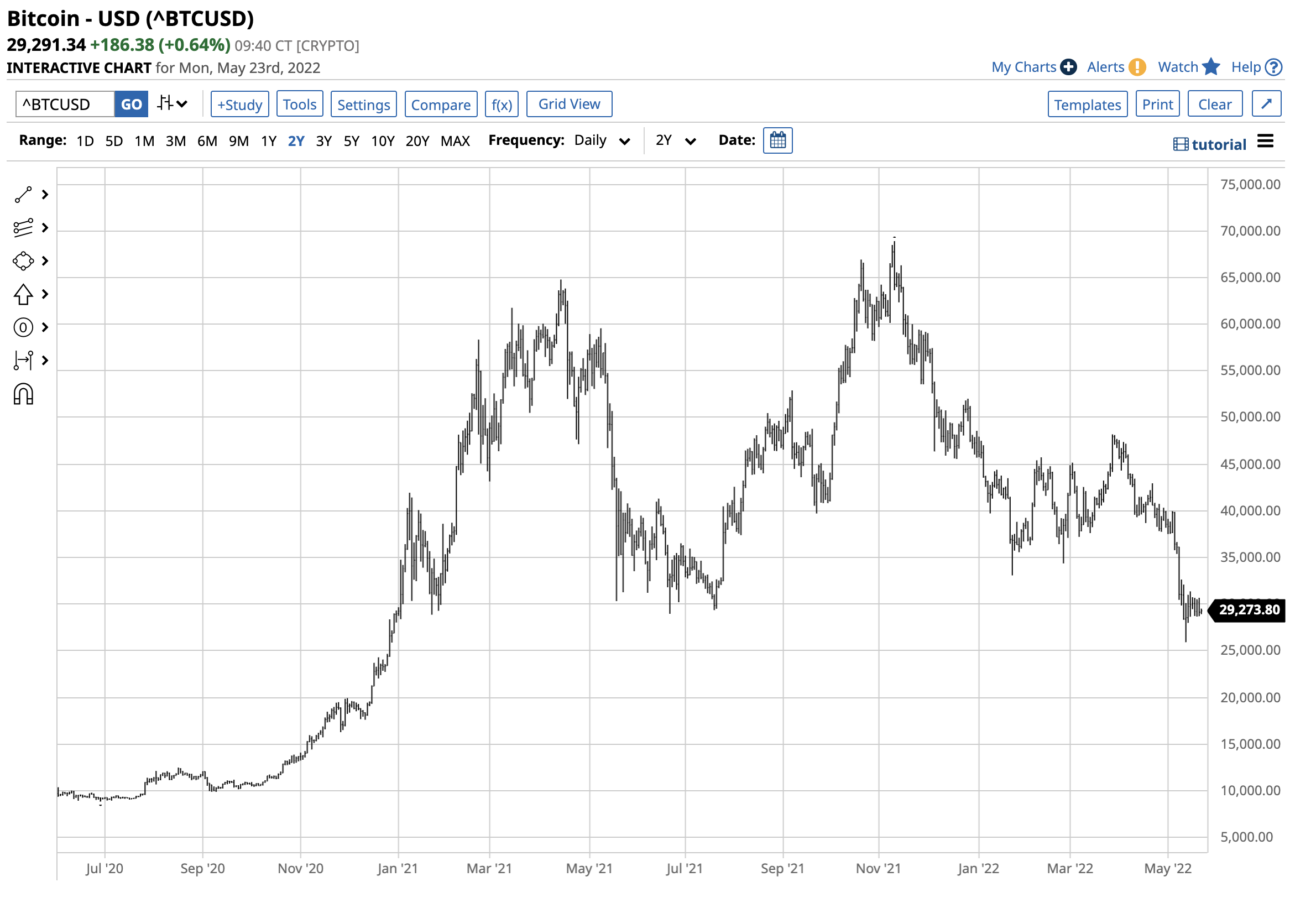 Source: Barchart
The chart shows Bitcoin fell to its latest low of $25,919.52 on May 12, its lowest level since late 2020. A falling stock market, higher interest rates, and the Terra debacle put downward pressure on the leading crypto.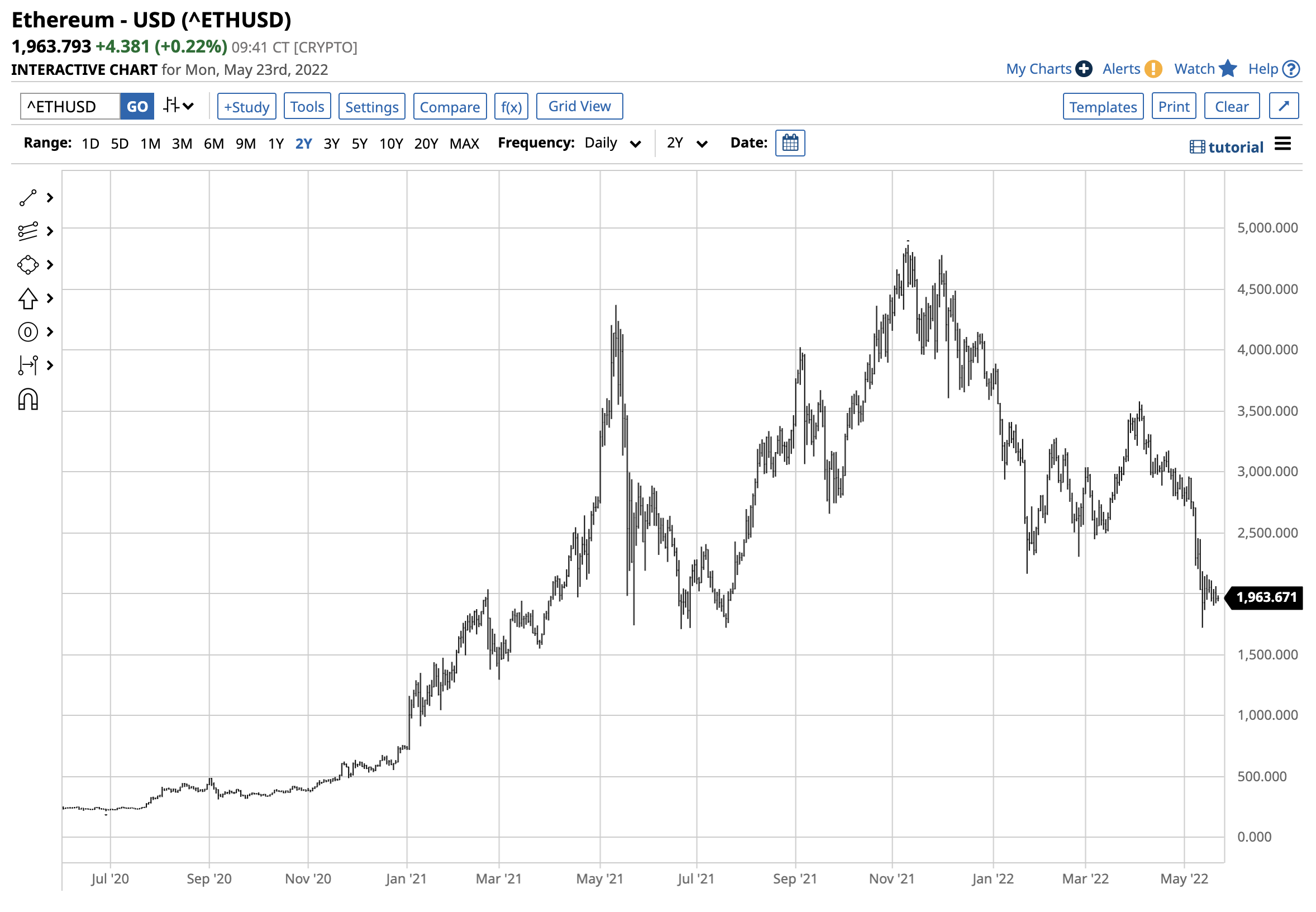 Source: Barchart
Ethereum fell to $1721.474 on May 12, its lowest price since June 2021. Many other of the over 19,500 cryptocurrencies fell as well, as the stablecoin became unstable.
Stable is not a guarantee
Some market participants believed that tokens like USDT and even UST are the same as holding US dollars. They were lulled into a false sense of security after years of trading at parity to the US dollar, fulfilling their pledge as "stablecoins."
Yet, many, like Mike Novogratz, learned an expensive lesson: dollars are dollars, while stablecoins are not. The term "stablecoin" does not, in fact, guarantee reliable, solid performance against the pegged asset.
With this asset class, be careful and expect the unexpected
Cryptocurrencies and stablecoins remain a burgeoning asset class, with many opportunities and commensurate risks. Digital yuan, dollars, euros, and other government-sponsored currencies are on the horizon. They will be the true stablecoins as governments use those tools to provide the durability that supports trade, monetary, and fiscal policy goals and agendas.
The risk surrounding independent stablecoins will, however, remain high. As developers peg the tokens to fiat currencies, their upside is limited. But, as the market discovered with USDT, downside exposure was unlimited.
Only invest capital you are willing to lose in the cryptocurrency asset class as the potential for substantial rewards comes with significant pervasive risks.
As of Dec. 31, 2021, Mike Novogratz's Galaxy held over $400 million in LUNA. The token that once sold for over $100 and is now worth under one penny inflicted a projected $300 million loss for Galaxy and pushed its equity 12% lower to $2.2 billion, an expensive lesson that all crypto investors and speculators should note.