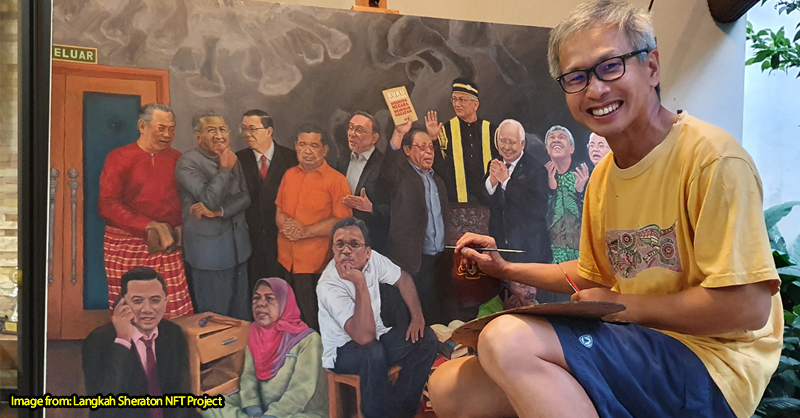 When reports emerged that Damansara MP Tony Pua had sold out all 8,888 pieces of his Langkah Sheraton NFT (non-fungible token) in 28 hours, something seemed fishy.
The main issue, according to local crypto enthusiast Twitter group @pedagang_eth, was that blockchain transactions involving the Langkah Sheraton NFT looked 'shady', as it appeared that Tony was buying up his own NFTs, and cycling the funds to fake sales numbers. In simpler terms:
In response, Tony Pua called a closed-door meeting with the group, which we somehow got invited to. Because, y'know, being a writer with Cilisos opens up many… closed doors.
But first, some context…
'Langkah Sheraton' is a physical painting created by Tony Pua himself
An avid painter, Tony Pua painted Langkah Sheraton as an artistic depiction of the infamous real-life Langkah Sheraton event. Proceeds from sales of the painting, according to its website, go towards 'reviving democracy and redeeming the people's mandate in the next General Election'. TLDR: it's a fundraiser for DAP. I mean, that's literally what he said:
"My objective is to raise money for the party. If someone wants to buy a big chunk, I will happily take that money for the party." – Tony Pua
In any case, Tony decided to monetize it by turning it into an NFT, which, according to him, allowed him to sell ownership rights of the same painting to thousands of buyers at efficient speed:
"The NFT is effectively shares of a painting. While the NFT is fairly novel, it is simply share certificates towards the ownership a physical painting. Without NFTs, selling one painting to hundreds of people is impossible. But now with NFTs there is a technological platform that is available for me to use to market my product to thousands of people." – Tony Pua
Reportedly, the NFT was so popular that it sold all 8,888 units within 28 hours. And this is what sounded the alarm bells for @pedagang_eth, who alleged that Tony was creating dummy crypto wallets to cycle funds in order to give the illusion of sales, rather than actually making legitimate NFT sales.
How did they find this out? Well, because the blockchain (like a ledger/financial database, but for crypto) is so transparent that every transaction is viewable by the public. So it was literally up for all to see:
@pedagang_eth even provided a flowchart to show the entire process…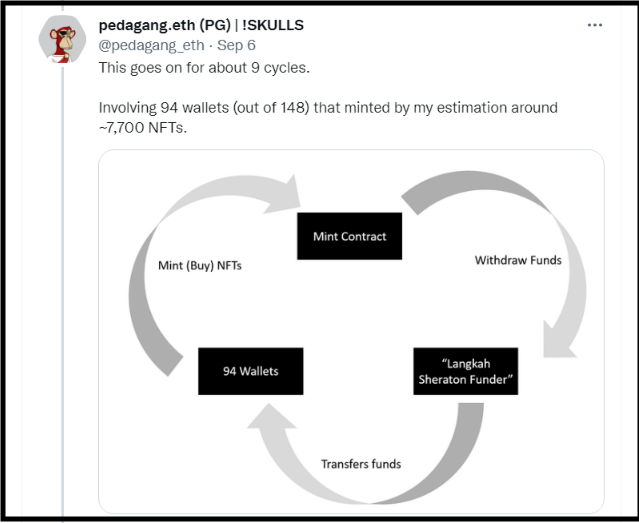 …and extended an invitation to Tony Pua to explain himself, which, he of course, accepted.
But the explanation that Tony gave for all of these actually made a lot of sense, especially considering who he was selling to:
He was creating crypto wallets and uploading the NFTs on buyers' behalf
…and to prove this, Tony actually showed us his personal Whatsapp conversations and personal bank statements (which we can't publish here, duh). Because according to him, since most of his target market was middle-aged, old-money high-income buyers (the largest one-off transaction he showed us was RM200,000), most of them didn't know too much about web3/crypto/NFTs to begin with, and didn't want to know:
"He (buyer) hears NFT, he said 'I'm not interested', because he doesn't know anything about it." – Tony Pua
His solution? To take cash payments from potential buyers, create a Metamask wallet (like e-wallet, but for crypto) for them, and mint (upload to the blockchain) the NFT on their behalf. According to Tony, only 10% of his buyers actually chose to go through this whole process on their own, so it was a lot of work on his end.
Each buyer would effectively become a part-owner of the physical Langkah Sheraton painting, and receive a physical certificate showing that.
But that's not all. As a firm believer in web3/crypto/NFT himself, he also took it on himself to educate them on the potential of NFTs for the future:
"My education process takes place after. I collect the money first, after that I will take my time, call 10 friends together, we'll have a dinner, and I will issue out the certificate. And then I will help each of them set up their wallet and see their NFTs inside. (I tell them) 'Even if you don't want to use your wallet, keep this, because next time your children will own it, and they can use it'." – Tony Pua
As for selling out, Tony says he was confident of doing so from the get-go, as the party has always had its traditional supporters, many of whom had pledged their funds even before the NFT went on sale. However, the main thing, besides raising funds for the party, was to expose influential people to the possibilities of web3/crypto/NFTs:
"To me, it is a positive exercise, because this 90% of people would never have been in the NFT world. We exposed a lot more people, people who are influencers, people who can afford to pay RM10K-15K, to recognize that NFTs are not just a novelty or a gimmick." – Tony Pua
His explanation got technical at some points (which we've done our best to try and simplify for all of you vanilla readers), but most importantly, @pedagang_eth were satisfied with his answers, and later acknowledged that…
His method was 'odd, but not a scam or a fraud'
Well, there you have it. @pedagang_eth later clarified their position on Twitter, which is a bit technical, so we'll just link it here if you wanna take a look. But the main issue was resolved, and Tony stands by his chosen method:
"We (DAP) are not against crypto; we're just clueless about crypto. I can tell you, I tried selling this to my own MPs. All stayed far, far away. To say that it is off-chain: yes. To say that it is without record: no. They're just records on different platforms. All the money trails are there." – Tony Pua
As for @pedagang_eth, they were even nice enough to suggest a more transparent method to avoid misinterpretation in the future, and the whole meeting was, in their own words, 'civil and done in true muhibbah spirits', so all's well that ends well.