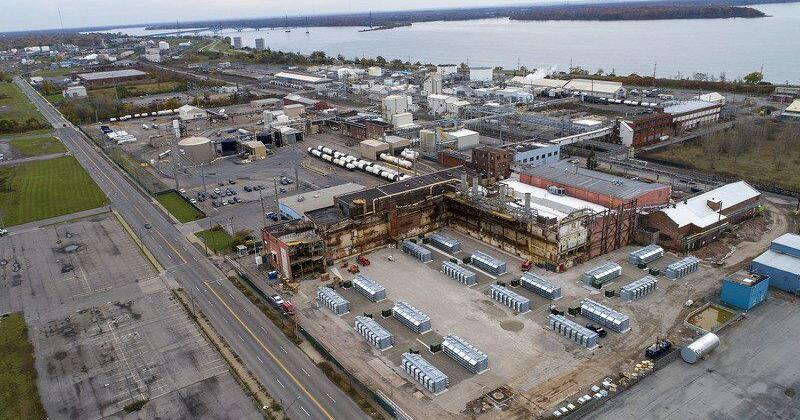 Attorneys for the city of Niagara Falls are asking a State Supreme Court justice to find a cryptocurrency mining company in contempt for violating a court order that directed them to shut down their high-energy use facility on Buffalo Avenue.
The request, filed on Dec. 8, asks the court to impose a "daily fine" against U.S. Data Technologies Group Ltd. and U.S. Data Mining Group Inc, doing business as U.S. Bitcoin for alleged violations of a temporary restraining order issued by Justice Frank A. Sedita III.
Sedita issued the restraining order on Dec. 1. It directed U.S. Bitcoin to cease "engag(ing) in "any and all forms of cryptocurrency mining" pending the outcome of a hearing on the city's request for a preliminary injunction that seeks to shutdown three cryptocurrency mining facilities currently operating in the city "unless and until" they comply with a recently enacted series of amendments to the city's Zoning Code that govern the location and operation of high-energy use industries such as data centers and crypto-mining facilities.
The city maintains that the current cryptocurrency mining operations are creating a "public nuisance" and engaging in "ongoing violations" of the city's Zoning Code.
The case has been transferred from Sedita to more recently installed State Supreme Court Justice Edward Pace. Pace will hold a hearing on the contempt request on Jan. 25.
The contempt request applies only to U.S. Bitcoin. A second crypto mining operation in the city is already shut down after being damaged by a fire and a third is reportedly engaged in seeking compliance with the new high-energy use zoning requirements.
All three crypto-mining companies in the Falls received letters, in November and December 2021, from the city's Department of Code Enforcement, advising them that they were in violation of the city's Zoning and Building codes and demanding that they "cease and desist" their operations until they were in compliance.
In September, The City Council, on a 4-1 vote with Council Member Donta Myles opposed, approved a set of new high-energy use amendments to the Zoning Code. Those amendments had previously been approved and recommended to the council by both the Niagara Falls and Niagara County planning boards.
City residents living near the three crypto-mining operations flocked to a public hearing in July to demand action on what they described as unreasonable noise created by the cryptocurrency facilities.
"At the beginning of the year my home was invaded, by noise. It has changed my life. It is constant, 24 hours a day," said Bryan Maacks, who lives near the U.S. Bitcoin facility inside what had been an abandoned industrial plant on Buffalo Avenue. "I'm here for myself and my mental health."
In addition to the three bitcoin mining facilities that are subject to the current legal action, two to three more crypto facilities are reportedly seeking to establish operations in the Falls.
The new Zoning Code amendments restrict high-energy use facilities, like data centers and bitcoin mining operations, to locations that are zoned only for industrial uses. The amendments also act as a so-called "overlay" to the city's current industrial zoning requirements and add new restrictions that require larger set-backs of the high energy use facilities from their neighbors.
The changes also impose strict limits on noise generated by the high energy use operations.
Representatives of the three operators named in the legal action have previously asked that their facilities be exempted from the new Zoning Code requirements. A calls to the attorney representing U.S. Bitcoin was not immediately returned.